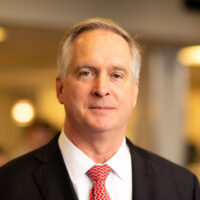 Matthew J. Dolan
Chief Executive Officer
Matt Dolan is founder and CEO of the Global Teaching Project, which provides promising high school students in rural and underserved areas access to advanced courses they need to achieve their full potential, but which their schools otherwise may not be able to offer.
Prior to founding the Global Teaching Project, Mr. Dolan, an attorney, practiced law in the private sector and on the staff of the U.S. Senate.  In the private sector, Mr. Dolan worked closely with numerous technology companies, media entities, financial institutions, philanthropic organizations, and academic institutions.  Mr. Dolan also has been an investor in, and advisor to, technology and media startups.  As a Senate staff attorney, Mr. Dolan focused on tax and budget issues.
In addition, Mr. Dolan has served in a volunteer capacity for many charitable, philanthropic, and public service entities. He has been an officer and director of the Todd Wagner Foundation since its founding over two decades ago; over that period, the Foundation has donated tens of millions of dollars to various initiatives, with a particular focus on expanding educational opportunity. For over 20 years, Mr. Dolan has been a board member, including multiple terms as board chair, of Archbishop Carroll High School, a college preparatory school in Washington, DC that serves students from disadvantaged backgrounds, virtually all of whom go on to attend college.  Mr. Dolan also has served on the board of the Washington Catholic Charities Immigrant Services program, which provides medical, vocational, and other support to recent immigrants and others seeking assistance. Mr. Dolan also served four years on the Maryland State Council on Child Abuse and Neglect, a gubernatorial appointment.
Mr. Dolan is a past president and board member of the Yale Club of Washington, D.C.  Mr. Dolan took a lead role in implementing the Yale Club's Community Service Summer Fellows program, which sponsors Yale undergraduates to serve in local charitable organizations.
Mr. Dolan is a graduate of the University of Virginia School of Law and Yale College, where he graduated cum laude with distinction in the History major. At Yale, he received the Fenmore R. Seton Award for community service for his work tutoring center city youth. Mr. Dolan and his wife, MaryEllen, have four children and live in Maryland.
Other Members