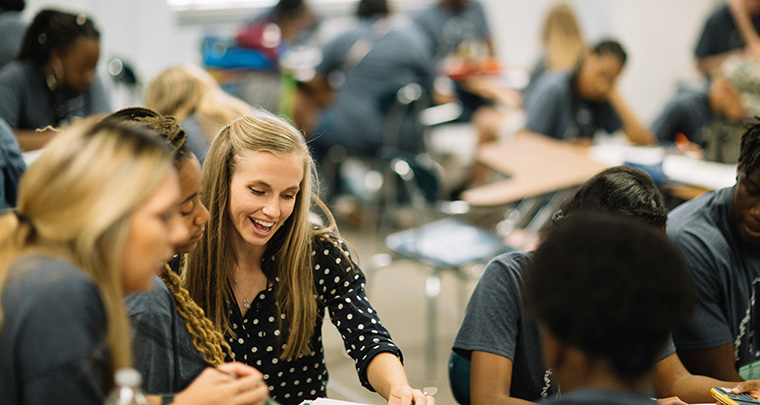 Dear Friends of the Global Teaching Project,
We are very pleased to report that our students, teachers, and tutors overcame unprecedented challenges to conduct a highly successful Advanced STEM Summer Program, with record levels of participation.
Since our initiative began, our Summer Program has been a key component of our educational experience.  All of our students—who attend public high schools in rural Mississippi communities in the Delta, northeast, and central parts of the state—have been identified by their schools as having exceptional academic promise.  Nonetheless, we recognize that they can benefit from additional preparation for the rigor of an AP curriculum, which we seek to provide through our Summer Program.
In the summers of 2017, 2018, and 2019, we conducted a residential preparatory program on the campus of Mississippi State University.  Students received intensive Math and Science instruction during the two-week program, and also experienced life on a college campus.  Those residential programs produced exceptional results—Mississippi State reported that students in our summer residential program "achieved dramatic gains in substantive understanding of course content, according to nationally recognized pre- and post-program assessments utilized by the American Association of Physics Teachers."
This summer, a residential Summer Program was not possible.  However, rather than give up, our students, faculty, and tutors resolved to push ahead:
A total of 82 students—the most ever for our Summer Program—participated in online instructional sessions and ancillary activities over a five week period.  Those students came from 11 high schools in various parts of Mississippi, though a majority were from the Delta.
Mississippi-based, AP Physics-certified instructors led the sessions, which covered kinematics, forces, Newton's laws, trigonometric functions, and other key concepts.
11 college STEM majors from Yale, the University of Virginia, Harvard, and Scripps worked with the students.
In each instructional session, the lead AP teachers presented a lesson to the full group, after which the college tutors would work with small breakout groups of students to reinforce the lessons and answer assigned problems.
We hosted dinner discussions with guest speakers, for which we provided meals to our students and their families.  Students met via zoom with Professor Meg Urry, Director of the Yale Center for Astronomy and Astrophysics, and entrepreneur Mark Cuban.
With guidance from tutors, our students created a Common Application account and began completing their college applications.  Danny Thompson of Get2College, a Mississippi-based non-profit, spoke to our students about the college application and financial aid process.
Our Summer Program conducted pre- and post-program assessments under the supervision of the University of Mississippi Center for Research Evaluation (CERE), which is conducting a multi-year analysis of the efficacy of our initiative.  Though, not surprisingly, the improvements in student performance were not as dramatic as in our immersive residential Summer Programs, results nonetheless were encouraging.  CERE's analysis concluded that the nationally-recognized assessment test found a "modest but substantively-important increase in both overall mean from pre to post and the average change score".
In addition to building their substantive Math and Physics foundation, our students also improved their study skills.  For many of our students, this was their first experience learning via remote instruction, an experience that will help them in the coming months, when many of our schools will conduct classes, in whole or in part, online.
Similarly, many of our students had not previously worked with tutors in a format such as ours—in which accomplished college students from prominent universities help promising students with rigorous subject matter.  Because our tutors will continue to work with our students throughout the school year, we expect that, as in past years, those relationships will become even more productive over time.


We are very proud of our students, teachers, and tutors.  The fact that ours students would show up (virtually) at 9:00 am on summer mornings, four months after their schools physically closed due to the worst pandemic in a century, is testament to their dedication and resilience.  More generally, their continued success emphatically affirms the premise of our program—there are bright students everywhere who, with quality instruction and sufficient supports, are capable of excelling academically.
Finally, we recognize that our program is an effort of a broader community of which each of you is a part.  We are deeply grateful for your interest and support.
Best wishes,
Matt Dolan
CEO, Global Teaching Project