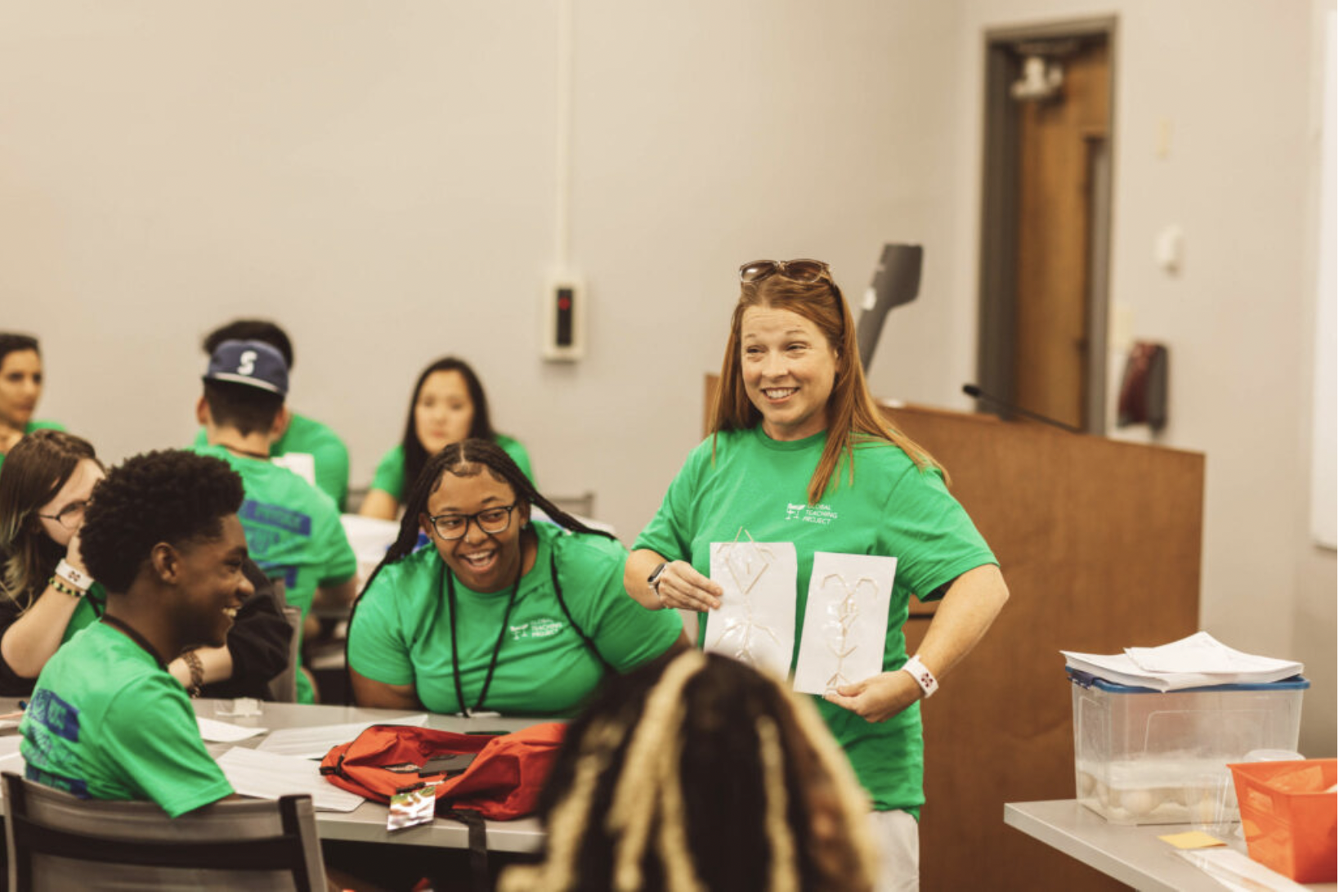 Staff Spotlight: Nicole Roberson
Nicole Roberson serves as Executive Director of the Mississippi Public School Consortium for Educational Access, which implements the Global Teaching Project's Advanced STEM Access Program to provide promising high school students in rural Mississippi the opportunity to take rigorous science courses.  She also serves on the faculty of the University of Mississippi School of Education, where she teaches Secondary Science Education.
Nicole is a passionate educator and works tirelessly to expand educational opportunities throughout Mississippi.  She was recognized earlier this year as "Best Professor" in Oxford magazine's annual "Best of Oxford" survey.
We are honored to work alongside Nicole.  We recently asked Nicole a few questions about her life experiences and passions.
Where in Mississippi did you grow up?  What was your hometown like?
I grew up in northeast Mississippi in a small town called Belmont.  It is a tiny town, located near the Mississippi/Alabama border.  Belmont is one of your typical small, rural towns in which everyone knows everyone else.
Tell us about your high school.  Did it offer any AP classes?
Belmont's school has K-12 on a single campus, with separate buildings for elementary, middle, and high school.  I come from a family of teachers, and many of them taught at my school while I was there.  My mom was the school librarian and my uncle was the high school principal.  I was also taught by my grandmother, an aunt, and a few cousins as well. There were only 58 people in my graduating class. During my senior year, 5 of us took AP Calculus.  I'm pretty sure that it was the first time the course was offered at our school, and I'm not sure how long it continued being offered.
What activities were you involved in outside of school?
I was a cheerleader from 7th – 12th grade, so I spent a lot of my time outside of school at practices and taking gymnastics classes.  I took piano lessons for 11 years and was very active in my school and church choirs.
Where did you go to college and what did you study?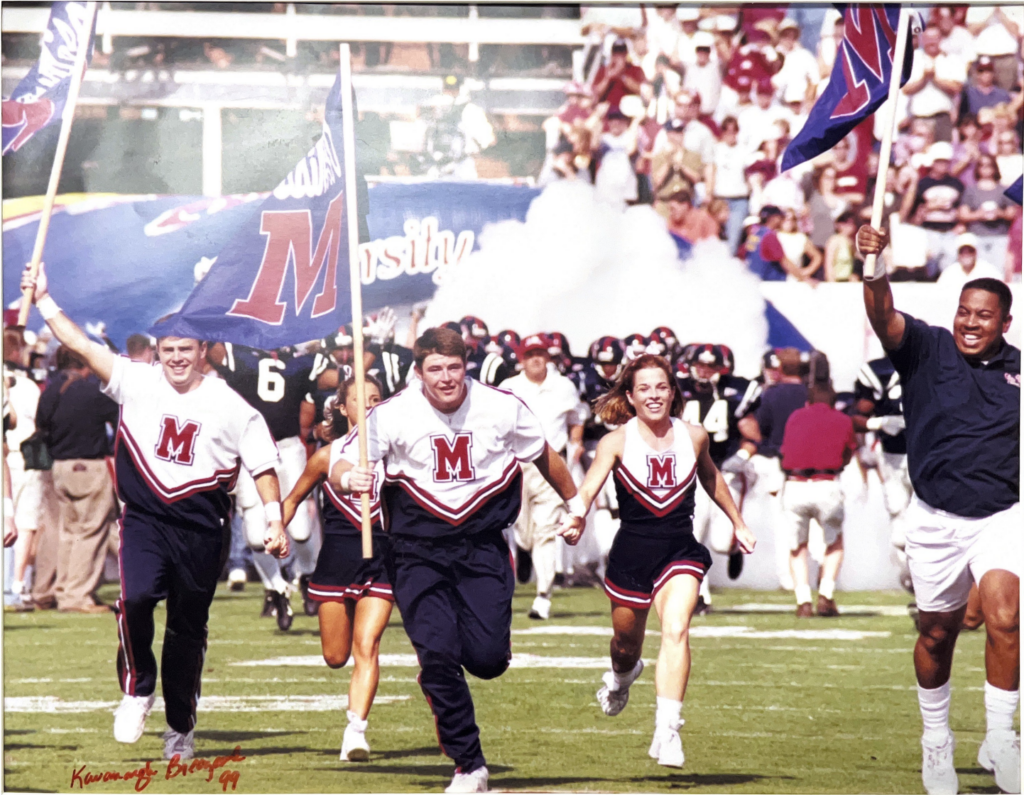 Graduating from a very small school led me to attend a community college (Northeast) after graduation.  I was very undecided about my career path, so taking a variety of courses in a smaller environment really allowed me to try a lot of different things while also being extremely involved at the school as a cheerleader.  As long as I can remember, I knew that I would end up at the University of Mississippi. I transferred to Ole Miss for my junior and senior years, continued cheering (Hotty Toddy!), and also continued to explore career options.  Altogether, I think I changed my major at least 4 times before settling on education. The one constant was that I always gravitated towards the area of STEM.  Prior to education, I considered biology, chemical engineering, physical therapy, and biochemistry 🙂
I graduated from the University of Mississippi with a BA in Secondary Science Education, with an emphasis in biology and a minor in chemistry.  I stayed at UM for a 5th year and completed my Masters degree as well in Secondary Science Education.  Currently, I am once again a student at UM pursuing an Ed.D in Secondary Science Education.
Why did you decide to become a teacher?
As a child, I always said that I wanted to be a math and science teacher, but as I got older, I was determined to find a career that seemed more "prestigious."  Trying out various majors, I couldn't seem to find the right fit.  As I mentioned earlier, the one constant was that I loved math and science.  What I also realized was that I absolutely loved school – all aspects of it.  Some of the most influential people in my life have been educators. I realized that, deep down, I wanted to teach as well, and I've never looked back since.
You are a passionate STEM advocate.  Why is it so important that high school students study STEM subjects?
I have always loved puzzles, and for me, a lot of STEM requires the same problem-solving strategies and mindset. We are constantly surrounded by questions and problems that need a solution, and a strong STEM education provides students with the tools necessary to find solutions.
What do you love the most about working in education in Mississippi? What about your role with GTP do you enjoy the most?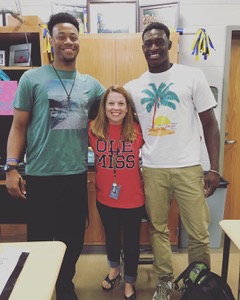 I have lived in Mississippi my entire life, and I've never wanted to live anywhere else.  For me, teaching is a very gratifying career.  I have had the opportunity to play a role (sometimes small, sometimes large) in my students' lives.  Helping students make connections and develop understanding is a pretty amazing thing, and I can't imagine anything better than helping the students of my home state.  I am fortunate that I was provided with a phenomenal education, and as a teacher, I have been fortunate to teach in districts that could make all types of resources available.  The Global Teaching Project allows me the opportunity to provide those same things to students all over our state.  Everyone deserves a quality education, and GTP helps make this a reality when access may be an issue.
You are the parent of a college student and middle school student!  What have you observed about their academic experiences that excites you about the future of education in Mississippi?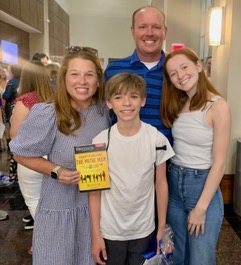 My oldest child, Riley, is currently a sophomore at Ole Miss.  She had the opportunity to take a LOT of AP courses during high school, which allowed her to begin college with 25 hours of college credit.  Many schools in Mississippi are embracing the benefits of AP to benefit students.  While my son isn't old enough to participate in AP yet, he is already benefitting from initiatives to improve STEM education in Mississippi, especially in the area of computer science. As a middle school student, Cullen is currently part of a computer science and engineering course that is exposing him to so many new and developing technologies. He is also part of his school's robotics team which is just super cool.
What inspires you the most about GTP and its mission?
All students deserve a quality education.  Working with GTP helps to ensure that access to advanced coursework is possible, regardless of where you are living in Mississippi.
What advice do you try to pass on to GTP students?
Don't be scared to try new and challenging things.  Also, don't be scared to fail. In many cases, failure is just part of the process that leads to success.  If anything, go ahead and fail faster so that you will get to the solutions more quickly.