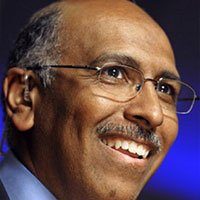 Michael Steele
Former Maryland Lieutenant Governor
Michael Steele has served in a variety of prominent positions in public service and the private sector, including as Lieutenant Governor of Maryland and chairman of the Republican National Committee.
When Mr. Steele was elected Lieutenant Governor in 2003, he made history as the first African American elected to statewide office in Maryland. In that position, Mr. Steele's priorities included reforming the state's Minority Business Enterprise program, expanding economic development in the state, fostering cooperation between government and faith-based organizations to help those in need, and improving the quality of Maryland's public education system.
While in office, Mr. Steele championed numerous initiatives to strengthen education, with a particular focus on ensuring that disadvantaged students were afforded a quality education and, with it, the opportunity to achieve their full academic potential. Towards that end, Mr. Steele advocated funding and implementation of a range of innovative educational reforms, and pushed for passage of the State's historic charter school law. Mr. Steele also chaired the Governor's Commission on Quality Education in Maryland, known as the "Steele Commission". The Commission released its final report in September 2005, with 30 recommendations for a variety of school reforms, such as teacher certification changes, charter school reform, and reading and math pedagogical changes. The report also presented recommendations to help identify and recruit teachers for hard-to-find specialties—such as math, science, and special education—and teachers for hard-to-fill locations—such as inner city and rural areas.
Mr. Steele was elected chairman of the RNC in 2009. As chairman, Mr. Steele faced the daunting task of revitalizing a Republican Party that had suffered catastrophic defeats in prior election cycles. A self-described "Lincoln Republican," Mr. Steele, the first African American to lead the GOP, energized previously neglected grass roots, built coalitions among a fragmented and embittered electorate, and helped craft a winning message. Mr. Steele's transformation of the RNC and the party helped create one of the most dramatic electoral waves in U.S. history in 2010: 44.83 million voters turned out to cast ballots for GOP candidates for the U.S. House; that number remains, by a large margin, the highest turnout for either party in any midterm election in U.S. history. Approximately nine million more Republican voters went to the polls in 2010 than in the prior midterm, a stunning 25% increase that resulted in the biggest GOP gain of U.S. House seats since the 1930s, and the most state legislative seats won by Republicans since the 1920s.
Mr. Steele's ability as a communicator and commentator has been showcased through his current role as a political analyst for MSNBC. He has appeared on Meet the Press, Face the Nation, HBO's Real Time with Bill Maher, Comedy Central's The Colbert Report, and The Daily Show. In addition to his work in television, Mr. Steele can be heard each week on his radio program, Steele & Ungar on the POTUS Channel on SiriusXM.
Mr. Steele writings on law, business and politics have appeared in The Grio.com, The Root.com, BET.com, The Wall Street Journal, The Washington Times, Politico.com, Townhall.com, The Journal of International Security Affairs and Catholic University Law Review, among others.
Mr. Steele was born at Andrews Air Force Base in Prince George's County, Maryland, and was raised in Washington, DC, where he graduated from Archbishop Carroll High School. Upon graduating from Johns Hopkins University ('81), he entered the Order of St. Augustine to study for the priesthood. Mr. Steele, an attorney, is a graduate of Georgetown Law Center ('91), an Aspen Institute Rodel Fellow in Public Leadership, and a University of Chicago Institute of Politics Fellow.