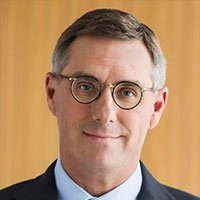 Jim Steiner
President, Abbot Downing
Jim Steiner is president of Abbot Downing, whose more than 300 professionals provide wealth management and other services to individuals, families, foundations, and endowments, with approximately $38 billion in total client assets.
As president of Abbot Downing, Jim Steiner is responsible for leading development of the organization's clients-first philosophy and business strategy. "Abbot Downing is people–both our clients and the Abbot Downing professionals dedicated to serving them," Jim says.
While serving as Lowry Hill's managing principal, Jim developed the firm's overall investment strategy and led the income equity, value equity and small cap strategies. Jim also oversaw the development and implementation of the organization's core values. These guiding principles helped position Lowry Hill as a leader in private asset management, contributing to its high client retention rate.
In addition to his leadership experience, Jim has been a portfolio manager for more than 17 years. Before his management roles with Abbot Downing and Lowry Hill, he was vice president and senior equity analyst at Investment Advisors, Inc., where he worked on the IAI Regional Fund, a mutual fund investing in private and public firms in the upper Midwest. Prior to that, Jim was vice president and senior research analyst at Dain Bosworth, Inc., where he focused on the healthcare sector. Jim's perspectives have appeared in many publications, including USA Today, The Wall Street Transcript, Private Asset Management and Financial Advisor.
Jim earned his bachelor's degree from Yale University, a master's degree in business administration from the University of Minnesota's Carlson School of Management and a master's degree in education from Harvard University.
Jim is a trustee of the Amherst H. Wilder Foundation. He and his family live in the Twin Cities.