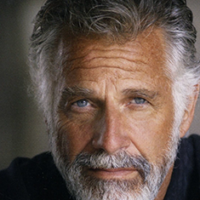 Jonathan Goldsmith
Actor and Education Advocate
Jonathan Goldsmith is an actor, supporter of numerous charitable causes, and advocate for quality education.
A veteran actor, Mr. Goldsmith's work has covered a full range of media and genres. He entered the profession through the New York theater, and has gone on to appear in many films, television roles, and commercials. Mr. Goldsmith has worked alongside John Wayne and Clint Eastwood in films, and has guest starred in over 350 television shows, including, among many others, Gunsmoke, Bonanza, Mannix, Hawaii Five-O, The Rockford Files, Barnaby Jones, Charlie's Angels, ChiPs, Dynasty, T.J. Hooker, Knots Landing, Magnum. P.I., MacGyver, and Dallas. In recent years, Mr. Goldsmith has been featured as "The Most Interesting Man in the World" in the eponymous Dos Equis advertising campaign.
Mr. Goldsmith has, for many decades, been a committed supporter and volunteer for a wide range of charitable initiatives, both in his adopted home of Vermont and throughout the world, with a particular focus on helping persons, especially children, afflicted by poverty, abuse, neglect, homelessness, and the scourge of armed conflict.
Mr. Goldsmith's passion for philanthropic work dates back to his teen years, when he worked on behalf of the Herald Tribune Fresh Air Fund for Handicapped Children. Currently, he is a vigorous supporter of, and active participant in, numerous charities, including the Mines Advisory Group, which shared the 1997 Nobel Peace Prize for its work clearing and destroying landmines, unexploded ordnance, and abandoned weaponry in areas around the world; Hunger Free Vermont, which provides school children with free hot lunches and nutritional assistance to other state residents; and the Stratton Foundation, which provides assistance to impoverished communities in southern Vermont. For four decades, Mr. Goldsmith has worked with Free Arts for Abused Children, an organization founded by Elda Ungar in 1977 that uses the inherent therapeutic value of the arts to help children recover from abuse and rebuild their lives. Mr. Goldsmith also is an active supporter of the Morris Animal Foundation, which invests in science to advance animal health.
Mr. Goldsmith's long-standing concern for the disadvantaged also has led him to advocate strongly to promote educational opportunity and address educational disparities, particularly among marginalized populations in rural communities and among the urban poor.
Mr. Goldsmith is a native of New York City and an alumnus of Boston University. Mr. Goldsmith and his wife, Barbara, live in Vermont.