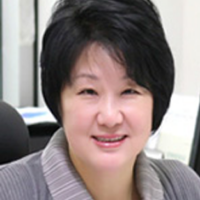 Professor Eunice Kim
Ewha Womans University (Korea); Director, KB Financial Group
Professor Eunice K. Kim is a member of the faculty at the Law School of Ewha Womans University ("Ewha"), located in Seoul, Korea, a position she has held since 2010. She is also Special Adviser to the President of Ewha for International Affairs and Korea Director of Meridian 180, a nonpartisan community of exceptional intellectuals around the Pacific Rim and the world featuring discussion of current legal and policy issues. From 2012 to 2014, she was Vice President for International Affairs, as well as Dean of Ewha International Co-ed Summer College. Professor Kim also serves on the Board of Directors of KB Financial Group, Korea's leading financial conglomerate, with the largest customer base and the most extensive branch network in the country.
Professor Kim, a member of New York State Bar, previously held senior management positions in several global financial services firms, including Hana Financial Group, Citibank Japan Ltd., Citibank Korea Inc., Citigroup Global Markets Korea Ltd., and Franklin Templeton Asset Management Co., Ltd.
Professor Kim is currently a member of the Future and Development Committee of the Korea Supreme Prosecutor's Office, a director on the Board of GongGam Human Rights Law Foundation, and director and Vice Chair of the International Association of Korean Lawyers ("IAKL"), and a former Chair of the IAKL Pro Bono Committee. Professor Kim concurrently serves on the Committee for the Creation and Development of Financial Center presided by the Commissioner of Korea Financial Supervisory Commission ("FSC") and on Advisory Committee to the President of the Korea Financial Supervisory Services ("FSS").
Previously, Professor Kim served as Advisor to Korea's Presidential Committee on Informatization and Strategy, a member of the FSC Council on Financial Sector Development, the FSC Capital Markets Investigation and Review Committee, and the Investor Dispute Committee of the Korea Exchange. Professor Kim was also Chair for the In-House Counsel Forum and Vice Chair for Korea Network of Women in Finance. In recognition of her contribution to the development of the financial services sector in Korea, Professor Kim has received two Certificates of Commendation, one from each of the Governor of the Korea FSS and the Chairman of the Korea Financial Investment Association. In 2012, Professor was a recipient of the Korea Grand Legal Award.
Professor Kim received her Juris Doctor from Yale Law School and graduated magna cum laude from Yale College, where she double-majored in Chinese Studies and Administrative Sciences with distinction in both majors, and earned election to Phi Beta Kappa. Professor Kim was a Fulbright Scholar in Korea from 1982 to 1983.